Cranberry harvest likely the best in several years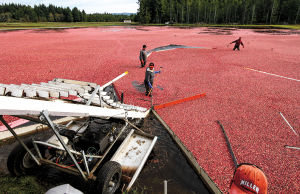 October 10, 2013 11:30 pm
•
A warm and sunny summer has helped boost the Long Beach Peninsula's cranberry harvest, with officials expecting a slight but important improvement after four years of lackluster yields.
A glut of Canadian berries also continues to drive down prices.
The harvest, which began late last month and will continue through early November, looks to be best in five years, said Kim Patten, who monitors the cranberry industry for the Washington State University Long Beach extension unit. But that's a relative ranking, because the previous four years have been "exceptionally poor," he said.
"It's certainly better than the past four years, but it's not a bumper crop or anything," Patten said. "It's probably going to be an average crop."
Patten estimates the region should average about 100 barrels an acre, up from the 60 to 80 barrels an acre of the past few years. Last year was the lowest yield since the 1960s — despite improvements in plant varieties and harvesting tools — so even an average year is a solid improvement.
Weather has been a big player in the turn-around.
Cranberry plants thrive on mild, sunny weather, so the warm spring and summer helped blooms get pollinated, which must happen to produce fruit, Patten said.
In addition, recent rains have made it easier to harvest, farmers said.
While most people think of cranberry bogs full of water, the farms are only flooded with water during the harvest, which floats the berries after they're shaken loose from the plants. Plants grow in dry ground most of the year, Patten said. The recent rains have made harvesting easier because farmers haven't had to work as hard to flood the fields.
Many areas of the Northwest got record rains in September, and the moisture "got us going early," said Blaine Saunders, who helps run harvests at CranMac Farm, Inc., in Ilwaco. "It filled up all the ponds and soaked the ground really good."
As for price, an influx of Canadian berries continues to depress the market and is leading to "a day of reckoning," Patten said. Eventually, the Canadian and American markets must regulate production or some farms will be forced out of business, he explained.
Most Long Beach farms belong to the Ocean Spray cooperative and are protected somewhat from the price drops. The handful of independent farmers, though, could face prices well below the cost of production and harvest, Patten said.
"If you're getting eight to 10 cents a pound on cranberries, you can't stay in business long," he said.
Fresh fruit growers are faring slightly better and some have found niche markets to stay afloat. Those selling to the processed market — for juice and other cranberry products — are more vulnerable.
"And even Ocean Spray prices will come down by about 5 cents per pound or $5 a barrel from last year," Patten said. Last year's average prices were between $60 to $64 a barrel. This year, Patten predicts an average of about $55 for a 100-pound barrel.
Canadian farmers expanded crops several years ago when cranberry prices were high, and those plants are finally at full yield, he said. In addition, some Canadian farmers receive government subsidies, which help keep their costs low. Barring government regulations to limit production, Patten said there doesn't seem to be a good short-term fix to the cranberry glut. And even that, he said, would only work if Canada also participated.
Ocean Spray is predicting an 11 million barrel world-wide harvest in 2013, including crops in Washington and Oregon.
About 85 percent of U.S. cranberries are grown in Wisconsin and Massachusetts, but the bitter berries also are big business in Long Beach, with a more than 100-year history. Long Beach's 27 farms take up 650 acres, with another 1,200 acres in the nearby Grayland area, Patten said.
"Cranberries play a vital role in the economy of Southwest Washington," he said.
— Daily News photographer Bill Wagner contributed to this story.