Vandalism claims young tree planted by city to mark Arbor Day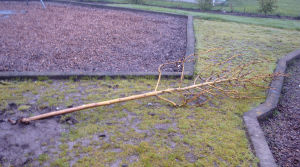 It didn't even last the week.
A young golden desert ash tree the city of Longview ceremoniously planted Wednesday at Bailey Park for Arbor Day was destroyed over the weekend by an act of vandalism. Monday, parks workers found the 2-inch-thick tree snapped off at ground level.
Parks and Recreation Director/Assistant City Manager Dave Campbell said his reaction upon learning of the incident at the West Longview park was unprintable and "might have involved a four-letter word or two."
Vandalism is common at city parks, but the fact that this time it involved a tree planted to commemorate Arbor Day made city employees feel worse. Longview prizes its lush tree canopy and has been a Tree City USA for 29 years.
"It makes it that much more infuriating and discouraging," Campbell said Monday.
A tree the city planted in the same spot two years ago at Bailey Park met the same fate — it was pushed over until the slender trunk broke. Parks Supervisor Curt Nedved said he wanted to get a tree established there to shade a playground for children ages 2 to 5.
Campbell reported the demise of the $90 ash tree to police. He's asking anyone with information to call police, Crime Stoppers or him. He emphasized the need for the public to report suspicious activity in parks, especially at night.
Campbell said it's crossed his mind that maybe if the city hadn't publicized the tree planting ceremony, the vandals wouldn't have known it was there. He's encouraging anyone who has ideas for how to prevent such vandalism to contact him in case it's something the city hasn't thought of.
Dave Campbell can be reached at 360-442-5400, 442-5421 or david.campbell@ci.longview.wa.us. Anonymous tips can be made to CrimeStoppers at 360-577-1206. The number for Longview Police is 442-5800.